Founding Board of Directors – 2006
Argentine Saunders Craig
Brenda B. Jones
Lennox E. Joseph
​Alan Klein
Donald C. Klein (1923-2007)
​Frederick P. Nader (1942-2014)
​Charles N. Seashore (1932-2013)
Edith Whitfield Seashore (1928-2013)
---
In Loving Memory
Donald C. Klein, Ph.D. – 1923 – 2007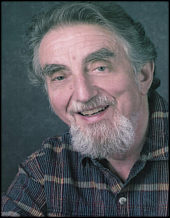 For more than 50 years, Donald (Don) Klein consulted with executives and professional leaders of business, government, religious, educational, health and human service organizations and with citizens involved in local community development programs in the United States and other countries. This work had to do with: increasing organizational effectiveness; mentoring and management development; program development in community mental health; individual, organizational, and community empowerment; and dealing with interpersonal, inter-divisional and inter-organizational effectiveness.
Trained in clinical psychology at the University of California at Berkeley (Ph.D., 1952), his earlier work was concerned with community mental health and preventive psychiatry (Community Dynamics and Mental Health, 1968). He then focused increasingly on how to empower people to bring about needed change in the groups, organizations and communities that affect their well-being (Power: the Infinite Game, 1999, and New Vision, New Reality, 2006). In addition, he was a book editor and the author of innumerable articles and book chapters.
In 1962, he succeeded NTL Founder Ken Benne as Director of the Human Relations Center at Boston University. In early 1970s, Don founded the Applied Behavioral Science program at Johns Hopkins University. Starting in 1978, he served as a core faculty member of the doctoral program of the Union Institute and University. Don attended his first NTL core lab in 1954 and became a member in 1956. Fifty years later, in 2006, Don and six other NTL members founded and established The Lewin Center.
---
Frederick 'Fred' P. Nader, B.S, M.S. – 1942 – 2014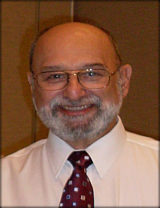 Frederick (Fred) P. Nader graduated from Keith Academy, a prep school for boys in Lowell, Mass., and went on to Boston University for undergraduate and graduate degrees. At Boston University, as a Simon Gutman Fellow at BU's Human Relations Center, Fred met and studied under Ken Benne and Don Klein. Under Ken's tutelage, Fred was sent, as an Arab-American, to work with Jewish groups and prisons. These were the formative years that shaped Fred's values for, and approach to, the field of applied behavioral science as scholar, organizational leader and consultant.
Fred was a masterful consultant and a scholar of applied behavioral science. He served as adjunct professor at American University and George Mason University. He wrote scholarly articles and edited, with Alan Merton (then president of George Mason University), a special volume of the Journal of Applied Behavioral Science, "Achieving Breakthrough Performance." From 2006 to 2008, he served as the senior OD advisor to the Navy, Army and Air Force, Flag Officers in the Military Medical Center in the National Capital Region. Fred's consulting successes were a testament to his caring manner, his knowledge, his masterful use of himself and his sincere attention to and appreciation of, client needs.
Early in his career, Fred served as Director of Small Business Development Programs, Whittemore School of Business (now the Peter T. Paul School), University of New Hampshire. He worked tirelessly for progress in the rights of juveniles in the justice system in Massachusetts and as irector of operations, Office of Juvenile Justice, U.S. Department of Justice. Later, as NTL President (1987-1991 and again 2010-2012), Fred established the Ken Benne Scholar program that provided selected NTL members with social justice related research funds. In the tradition of Ken, Fred became a Founder of the Lewin Center in 2006.
On Oct. 27, 2014, Fred received the 2014 Lifetime Achievement Award from the Organization Development Network, the national membership organization for OD practitioners.
---
Edith Whitfield Seashore – March 8, 1928 – Feb. 23, 2013
Living in the Work of Edith Whitfield Seashore: An Interview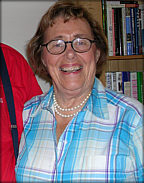 Who are you?
I am a white, Jewish female, born in Montclair, New Jersey, in 1928. I was educated at Antioch College, Ohio, where I secured a bachelor of arts degree in sociology in 1950; at Columbia University, NYC, where I secured a master of arts degree in social-psychology in 1952; and at The NTL Institute, Bethel, Maine, where I studied group dynamics and organization development from 1950-1959. I married Charles Seashore, Ph.D., in 1961, and we have two daughters – Rebecca (who was born in 1966) and Kimberly (in 1969) – and five grandchildren. I like to tell stories, real and mostly true, share humor, put two and two together, find solutions and take action.
Your work?
My professional career started with my NTL training in group dynamics, team building and leadership development, and then continued into organization development and large systems. I had been educated for all of this starting in my primary school years at a progressive, John Dewey Country Day School from which I went to Antioch College, founded by Horace Mann with its work/study program, and onto NTL, built upon Kurt Lewin's theories of laboratory learning and group dynamics. I started my work life with Richard Beckhard Associates, an organization development consulting firm, in New York City. Shortly after I began my work in organizations, the three major social justice movements began – the Civil Rights Movement, the Women's Movement and the Gay/ Lesbian Movement – so I was able to integrate my work in organization development with social justice. In 1959, I went out on my own as an independent OD consultant.
Your greatest professional achievements?
I was community manager (president of Antioch's student body) between 1949-1950, and president of The NTL Institute between 1975-1980. I co-founded, with the late Morley Segal, the AU/NTL master's program in OD in 1980. I received the ODN (Organization Development Network) Lifetime Achievement Award in 2001. And I also designed the Triple Impact Programs with Michael Broom, Ph.D.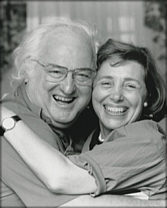 The biggest influences on your thinking?
• My parents – with their humor, curiosity, decency, and love of people.
• Douglas McGregor, president of Antioch College when I was community manager: he sent me to NTL for the first time. He was my first mentor and brought "process" as a concept, and group dynamics as a discipline, into my life and was my first coach in OD consulting.
• Richard Beckhard, who took me into his consulting firm as an associate and continued with my professional coaching.
• Iago Galdston, my New York therapist, who helped me to understand myself and the world I lived in.
• Charles Seashore, my life partner, who thoroughly believed in me, personally and professionally.
• Harold Kellner, my professional colleague, who taught me about, and worked with me on, righting the social injustices and inequities in the world.
• Becky and Kim, my daughters, who keep me thinking "outside the box".
The challenges ahead for ABS practitioners?
Firstly to understand the needs of human systems and find the methodologies that will respond to these needs effectively. And, secondly, to understand themselves and understand how they can help others understand themselves, especially around the methodologies that would enhance the well-being of human systems, in groups, organizations, communities and other large systems.
Your dream for the world?
That all human beings and animal life should have the opportunity to live healthy, fulfilled, respected lives, and that we should enjoy and learn from our differences.
Reprinted with permission from Practising Social Change: The practitioner's journal of The NTL Institute for Applied Behavioral Science. Vol. 02, 2010.​
---
Charles N. Seashore – June 19, 1932 – Jan. 20, 2013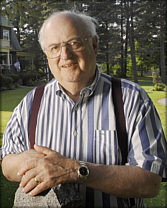 Charlie was born June 19, 1932, to Robert and Marjorie Seashore in Eugene, Oregon, raised in Wilmette, Ill., and graduated from New Trier High School. He received a B.A. in psychology and an M.A. in sociology from the University of Colorado. In 1961, he earned a Ph.D. in social psychology at the University of Michigan as a student of Ronald Lippitt, one of the founders of the National Training Laboratories. In 1957, Charlie went to Bethel, Maine, as a research assistant at the National Training Laboratories (NTL) Institute. There, he fell in love with Bethel, group dynamics, and Edith Whitfield. Charlie and Edie married in 1961.
In 1962, Charlie joined the staff of the National Training Laboratories Institute for Applied Behavioral Science. In 1972, he established a private consulting practice and began to teach in graduate school programs. He was a full-time faculty member of the Ph.D. program in human organization development of the Fielding Graduate University in Santa Barbara, California; faculty emeritus of the group psychotherapy training program of the Washington School of Psychiatry; an adjunct faculty in the American University/NTL master's program in organization development; and adjunct faculty for Johns Hopkins University.
Beginning in 1973, he was a part of the faculty of the Association for American Medical Colleges (AAMC) Management Education Programs, working with deans and department heads in the areas of management styles and organization development. His areas of concentration included personal growth and development, organization development, professional development, human relations training and applied research, and research utilization. He was an executive coach and an organizational consultant for over 40 years in Washington, D.C., and a founder and president of The Lewin Center.
Charlie's extensive contributions to the field of organization development were recognized in 2004 with the Lifetime Achievement Award from the Organization Development Network. In 2012, he was honored as the first Malcom S. Knowles Chair in Adult Learning at the Fielding Graduate University. His books include What Did You Say? The Art of Giving and Receiving Feedback, written with Gerald Weinberg and Edith Whitfield Seashore, and Renewing Higher Education from Within, written with Walter Sikes and Larry Schlesinger.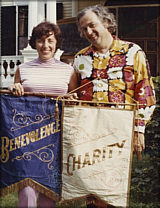 Charlie was best known for his outstanding sense of humor and creativity, his love of people, and his ability to create a community out of any gathering. He wrote a six-word memoir: "Born to fix – people, things, situations." Among his talents and achievements were juggling, accordion playing, unicycle commuting and becoming an Eagle Scout.
Charlie wrote in the introduction to Robert Marshak's Organizational Change: Views from the Edge: "However, the story began for me a long time before…As a third generation psychologist, I have been blessed with the opportunity to grow up with access to my grandfather Carl's home and psychological laboratory in Iowa City and my father's shop in the basement of the psychology building at Northwestern University – experimental psychologists are crazy about apparatus and anything that promotes the ability to test our ideas in action. I came to appreciate the connection between ideas and action at a deeper level later, after deciding to major in psychology at the University of Colorado. It was there I became aware that my grandfather, as dean of the graduate school at the University of Iowa, played a key role in recruiting Kurt Lewin to join colleagues in the development of the Iowa Child Welfare Research Station. It was there that Lewin became the mentor of Ron Lippitt and the catalyst for the field research that became Ron's dissertation. This was the famous study of autocratic, democratic and laissez-faire leadership in children's groups, an early marking point in the adventure of action research in social psychology, particularly the study of groups in the context of a democratic society."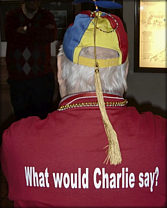 Charlie would say…
"We were working with power and Lewin's notion that there would never be a Hitler again. We were turning the pyramid into circles."
"Learn to appreciate your Core of Rot."
"What would you do if you were an adult?"
"Gooooood Morning, Sunshine…!"
"It's all going to work out just fine