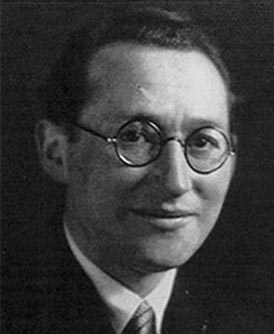 The Lewin Center honors this pioneer who set up a workshop to conduct a 'change' experiment that laid the foundations for what is now known as "sensitivity training." In 1947, this led to the establishment of the National Training Laboratory in Bethel, Maine. Carl Rogers believed that sensitivity training is "perhaps the most significant social invention of this century."
Lewin was born in the village of Moglino in the Prussian province of Posen in 1890. He completed his requirements for a Ph.D. in 1914, at the outset of World War I. Two years later, in 1916, his degree from the University of Berlin was conferred. Lewin immigrated to the United States in 1933, where he became a citizen in 1940.
While at the University of Berlin, Lewin "found many of the department's courses in the grand tradition of Wundtian psychology irrelevant and dull" (Hothersall, 1995, p. 239). His thinking was changing to emphasize social psychological problems. He is well known for his term "life space" and work on group dynamics, as well as t-groups. Lewin's commitment to applying psychology to the problems of society led to the development of the M.I.T. Research Center for Group Dynamics, where "he wanted to reach beyond the mere description of group life and to investigate the conditions and forces which bring about change or resist it" (Marrow, 1969, p.178).
Lewin believed in the field approach – that for change to take place, the total situation has to be taken into account. If isolated facts are used, a misrepresented picture could develop.
Lewin authored over 80 articles and eight books on a wide range of issues in psychology.
TIMELINE OF LEWIN'S LIFE
1890 – Born in Moglino, Prussian province of Posen
1914 – Enters Army for four years during WWI
1916 – Completed Ph.D., University of Berlin
1917 – Married Maria Landsberg
1919 – Daughter, Agnes, born
1921 – Privatdozent, University of Berlin
1922 – Son, Fritz, born
1924 – Student Bluma Zeigarnik completes study on recall of uncompleted tasks
1927- Promoted to Ausserordentlicher Professor
1929 – Remarried Gertrud Weiss
1931 – Daughter, Miriam, born
1932 – Visiting Professor, Stanford University
1933 – Son, Daniel, born
1933 – Fled Germany to United States
1933 – Faculty, Cornell University
1935 – Published "A Dynamic Theory of Personality"
1935 – Professor, University of Iowa
1936 – Published "Principles of Topological Psychology"
1940 – Becomes American citizen
1942 – President of the Society for the Psychological Study of Social Issues
1944 – Organized Research Center For Group Dynamics,M.I.T.
1944 – Established Commission on Community Interrelations (C.C.I.)
1944 – Mother killed in Nazi extermination camp
1946 – Published Psychological Problems in Jewish Education
1946 – Published "Frontiers in Group Dynamics"
1947 – Created National Training Laboratories (NTL Institute)
1947 – Died